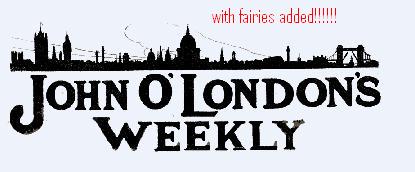 Sir,
I have read with interest the recent correspondence on fairies. In August, 1931, several fairies – female without wings, wearing some sort of flimsy transparent gowns – were seen by myself and eldest daughter on eight occasions among the flowering shrubs at the bottom of our garden in Warwickshire, which was bounded by a brook. I saw the same little lady on three separate days, as she wore a pink gown, while the others wore bluish ones. She was so shy that she only peeped at me around a bush, and disappeared when I was about ten paces off. She was not afraid, I thought, so much as anxious to avoid close intimacy with mere humans. They were about a foot and a half high, and looked like 'sweet seventeens' reduced in height, but they were simply lovely in face, form and movement. I cannot get their loveliness out of my mind.
London, S.W. 15                                                                  (Mrs) Hilda Gray
Gray, Hilda 'Fairies Are Not Dead!', John O'London's Weekly (6 June 1936), 347: for other John O'London fairy letters follow the link.