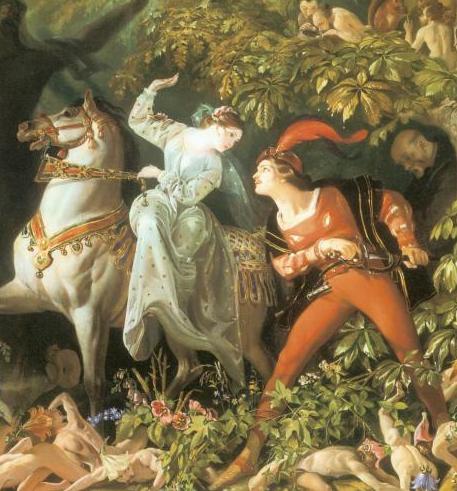 Long, long have I wandered in search of my love,
O'er moorland and mountain, through greenwood and grove.
From the banks of the Maig unto Finglas's flood
I have ne'er seen the peer of this Child of the Wood.
One bright Summer evening alone on my path,
My steps led me on to the Dark Fairy Rath;
And, seated anear it, my Fair One I found,
With her long golden locks trailing down on the ground.
When I met her, though bashfulness held me in check,
I put my arm gently around her white neck;
But she said, 'Touch me not, and approach me not near;
I belong to this Rath, and the Fairy Host here.'
'Ah!' I spake, 'you are burdened with sorrow and care;
But whence do you come? From Clar Luirc or elsewhere?
Are you Blanaid the blooming, the queenly, yet coy,
Or the dame brought by Paris aforetime to Troy?'
'I'm neither' she said, 'but a meek Irish maid,
Who years ago dwelt in yon green-hillocked glade,
And shone all alone, like a lamp in a dome.
Come! take off your arms! I'll be late for my home!'
'O, Pearl of my soul, I feel sad and forlorn
To see your bright cheeks fairy-stricken and worn.
From your kindred and friends far away were you borne
To the Hill of Cnoc-Greine, to languish and mourn
And I said to myself, as I thought on her charms,
'O, how fondly I'd lock this young lass in my arms!
How I'd love her deep eyes, full of radiance and mirth,
Like new-risen stars that shine down upon earth!'
Then I twined round her waist my two arms as a zone,
And I fondly embraced her to make her my own;
But, when I glanced up, behold ! nought could I see.
She had fled from my sight as the bird from the tree! (George Roberts 1884)