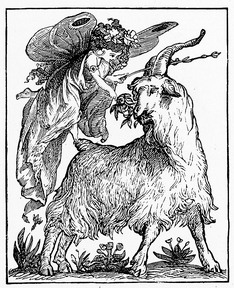 One evening of a blustering May,
When the green leaves were whirled away
By winds as wild as those that blow
In autumn, with the earliest snow,
Some friends were gathered close around
A farmhouse fire, and as the sound
The heard of the untimely gales,
They told old ghost and boggart tales.
The wind blew in great gusts, then failed,
And in the valleys shrieked and wailed;
The rain against the window dashed,
And from the low eaves dripped and splashed
It was a night on which a fool –
The biggest ever sent to school
Beneath the guidance of the Board,
Could know that witches were abroad,
Perchance e'en then were riding past
On bones broomsticks, with the blast.
The supper now as o'er and done,
And, ranged around the fire, each one
Told forth his tale in order due.
One told how, when his years were few,
As he to cellar once did steal
To supplement a scanty meal,
From pie, by careful mother stored,
A boggart by him rushed and roared;
Another told how once he heard
The sweetest song e'er trilled by bird –
Canary, nightingale, or lark –
Come from an empty cage; not dark
It was (said he) but sunny-bright
Whence all allowed that, truth to tell,
His story bore away the bell,
Because 'tis know such wonders aye
Are oftener worked by night than day.
Another – Lord! preserve from evil! –
Told how a man once raised the Devil,
Who made him a stout rope of sand,
Tied a neat knot in water – and
Put all the village in a fright,
Till a good priest put him to flight.
O ye whose faith is small indeed,
As is a grain of mustard-seed,
In boggarts – who at fairies sneer,
And turn to ghost-tales doubting ear;
O ye who think yourselves so wise,
You trust your own, doubt others' eyes;
Who don't believe in any elf
But in that sapient one – yourself, –
Had you, set by that ingle-side
Been by these wonders edified,
A heavy wager might be taken
Your scepticism had been shaken.
Yet there bold Tat o' Swinden sat
As silent as the small black cat;
Little he said, but now and then
He smiled, and slily took his pen,
Wrote something quickly in a book,
The while his sides with laughter shook –
O doubter! ere the night be done,
Or ere upsprings to-morrow's sun
As sure as these wild winds are shouting
You shall at home berue your doubting.
For now approached the midnight hour
When spirits have their greatest power;
And Tat o' Swinden has to go
Through all the eerie gusts that blow,
A mile or more to his small cot.
Not one was there but blessed his lot,
'Twas not his fate to have to trudge
Through the deep darkness and the sludge
At such an hour, when parted souls
Rise as the bell its twelve times tolls;
When witches ride upon their sticks,
And boggarts play their eldritch tricks;
On such a night, when without doubt
Ill spirits would alone be out!
Yet Tat o' Swinden bade good night –
Boldly he left the fireside bright;
The door is shut on him. Bold man!
The heavens assist thee, if they can!
Fiercely the wind against him blew,
Dark demon clouds just o'er him flew;
The wind wailed like a child in pain,
Then, like a woman, shrieked again;
The air was black as witch-cat's hide,
That scarce the path might be descried;
Once, groping, he his way mistook
And fell head foremost in a brook;
Once he fell o'er a cow that lay
Asleep and dreaming, in his way;
Once in a wicket gate he stuck,
And, stumbling, fell in mud and muck;
Once he tripped o'er an erring goose
That from a yard had wandered loose;
Oft the scared peewit swooped and cried
Like a lost soul, just by his side; –
In short, this rambling tale to settle,
Had he been made of weaker metal,
Doubtless his bold heart would have failed him
From all the terrors that assailed him.
But joy! his little cottage white
Looms through the darkness on his sight!
Ne'er England's chalky cliffs of pride
By sailors through a storm descried
With greater joy; nor white sails seen
Gladlier (from shore) by a marine;
Soon snugly tucked in little bed,
After an hour or two he's read
Some ancient book, he'll sleep and snore,
All dangers and all troubles o'er!
But, oh! how fleeting is each plan,
Hope and delight of mortal man!
They're like the bubbles in a burn
That burst, as they in eddies turn;
Like filmy clouds that melt away
Before the searching eye of day;
These truths must all be prov'd and borne
By Tat o' Swinden ere the morn!
Now he has gained, proud and elate,
His little garden's wicket gate;
Passed through the garden safe and whole,
And put the key into its hole;
Has turned the key and ope'd the door,
And stands upon his own house floor;
He locks the door, and in the gloom,
Stands safely in his little room,
And is about to strike a light,
When hark! what sounds his ears affright?
A sound as if all duns that ere
Poor debtors from their wits did scare,
All creditors that ever called
On bankrupt men by debts enthralled,
All devils ere supposed to dwell
Within the room halls of hell –
Had knocked hard at his door – such din!
It seemed t' would soon be broken in!
And yet his bold heart never failed.
Nor his cool head – he never quailed,
But seized a cutlass at his side –
(His grand-dad waved it as he died
Fighting Napoleon on the Nile)
Its edge was rough as rusty tile;
He ope'd the door – O vision horrid!
The cold sweat stood upon his forehead!
Two yellow eyes like coals that shone,
Two carving horns that stood upon
A head with scraggy beard – two legs
As thin as cripples' wooden pegs;
And, not to look for further proofs,
A tail, a horrid pair of hoofs –
All showed, as plain as eyes could tell,
'Twas Nick himself, just fresh from hell!
Tat though – he scarce had time to think –
The De'il will have me in a wink
If I'm not quick – he boldly struck
Out twice – and O! unheard of luck!
He pierced the foe of all mankind!
The sword went out a span behind!
Without a groan, upon his head
Before Tat's door the De'll fell dead!
Ah me! how strange is mortal life!
The man who strives not gains the strife!
The drone, who neither toils nor spins,
The hard-earned gold of workers wins;
The doctor dies of fever or could,
While he who laughs at him grows old;
The saint, who wrestles with the Devil.
Is overthrown at last by evil;
While Tat, who said there was no Nick,
Meets him at last, and wins the trick!
Tat stands and thinks what shall be done –
(The clock inside was striking one.)
Not Eve, the mother of us all,
Nor poor old Nick-tormented Paul,
Nor he, the patriarch of old,
Who once in Heaven to Nick was sold,
Felt half so queer, when teased and tried
By Nick alive in all his pride,
As Tat o' Swinden did that night,
With Nick before him, killed outright!
It would not do the tale to tell
Of how he killed the Lord of Hell,
For then his credit in the town
Would surely, hopelessly, be gone;
And though men would be glad to see
The corpse of their old enemy.
How they would laugh to see him slain
By one who always held him vain!
No! better throw him in the brook!
No sooner thought than done. He took
Old Nick by the heels – the hoofs we mean –
And o'er the bridge he threw him clean:
The wilds winds howled as in he splashed,
Blue lightning shone, the thunder crashed,
As by the torrent in its play
The corpse of Nick was whirled away!
Bold Tat into his cottage ran,
A sadder and much wiser man;
He vowed that he would never fail
When good folk told a boggart-tale,
To say that, from experience, he
Knew that such things, and more, might be
In a wise man's philosophy;
When parsons preached of Satan's wile,
He vowed, and felt, he ne'er should smile
So, with these good resolves new-bred,
He tucked himself up snug in bed.
Next morning broke serene and fine
The little birds sang songs divine;
Water puried placid down the linn,
Forgetful of its last night's din;
The sky was blue and all unclouded,
No mists the top o' Pendle shrouded;
As Tat o' Swinden early rose
From bed, and shaved, and donned his clothes.
He sought with joy the flowery mead
Where his two goats were wont to feed;
He saw but one! alas! too plain
The sad truth flashed across his brain
One goat for Nick he'd blindly ta'en
And with his cutlass foully slain!
O ye whose faith too often fails
When you hear good old boggart-tales –
Ye who on Tat intend to call
When decent folk are sleeping all –
(Specially if the weather's foul,
And winds and waters rave and howl)
If you'd object to try how steel
Run through your spinal-cord would feel –
If you can neither swim nor float –
REMEMBER TAT O' SWINDEN'S GOAT
Barcroft 'Tat O' Swinden: A Boggart Tale of To-day'