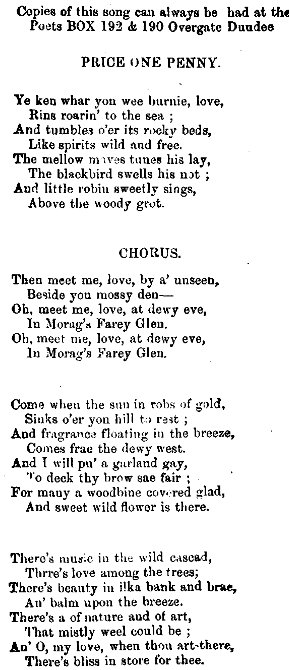 Editor's Note: This was a popular and surprisingly sensual nineteenth-century song by William Cameron (obit 1877), which described the meeting of lovers in Morag's Fairy Glen, a line of trees outside Dunoon. For a recording that is well worth listening to: Tobar an Dualchais.
Ye ken whar yon wee burnie, love,
Rins roarin' to the sea,
And tumbles o'er it's rocky bed,
Like spirit wild and free.
The mellow mavis tunes his lay,
The blackbird swells his note,
And little robin sweetly sings
Above the woody grot.
Chorus
There meet me, love, by a' unseen,
Beside yon mossy den,
Oh, meet me, love, at dewy eve,
In Morag's fairy glen;
Oh, meet me, love, at dewy eve,
In Morag's fairy glen.
Come when the sun, in robes of gold,
Sinks o'er yon hills to rest,
An' fragrance floating in the breeze
Comes frae the dewy west.
And I will pu' a garland gay,
To deck thy brow sae fair;
For many a woodbine cover'd glade
An' sweet wild flower is there.
There's music in the wild cascade,
There's love amang the trees,
There's beauty in ilk bank and brae,
An' balm upon the breeze;
There's a' of nature and of art,
That maistly weel could be;
An' oh, my love, when thou art there,
There's bliss in store for me.